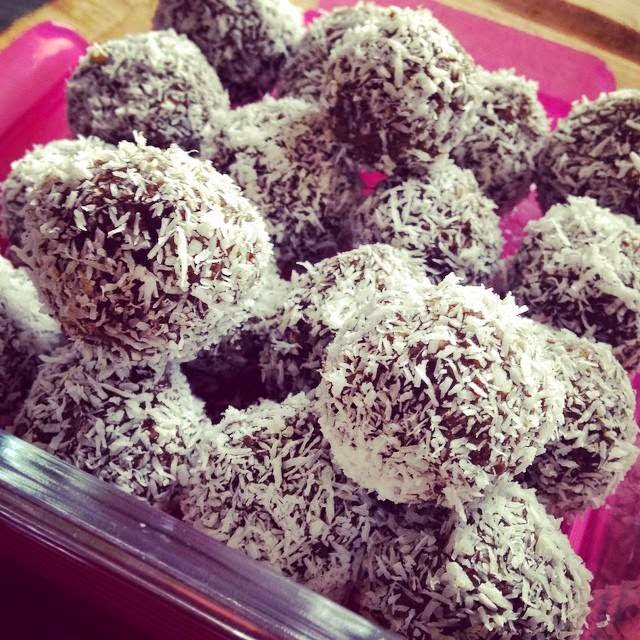 Once a week I do a batch of healthy snack foods that I keep in my fridge or freezer. Having ready made food at hand is so important because it helps us keep on track without the stress of always having to prepare something.
Tweetable ~ Keep healthy food in your fridge and you will eat healthy food!
These bliss balls are amazing because they provide all the essentials: cinnamon, protein, fibre and healthy fats to stabilize blood sugar levels, maca to increase energy and give you a libido boost, and a healthy dose of anti-oxidants, magnesium, and iron from raw cacao!
I also added some green superfood powder from Genuine Health. It's a convenient way to add even more antioxidant and phytonutrient support to fight free radical damage and slow down the aging process, and help the body detoxify and alkalize. It includes a blend of easily digestible vegan protein and the product is made from 70% fermented ingredients. The fermentation process makes nutrients more bio-available, increases absorption, and even helps to feed the beneficial bacteria in the gut!
Here is the recipe:
Libido Boosting Energy Bliss Balls
Topping:
1/4 cup coconut flakes
How to make:
Soak nuts (to remove enzyme inhibitors and mineral blockers) and dates for 1-2 hours.
Drain and rinse and add to your food processor along with the rest of the ingredients.
Blend until you have a uniform texture, stopping to scrape down the sides once or twice.
Using a melon scoop or table spoon to portion, roll batter between your palms.
Spread coconut flakes on a large plate and roll balls in the flakes to cover.
Makes roughly 25 balls. Keep them in the fridge for up to 3 days or in the freezer for a quick and healthy energy snack or dessert!
Enjoy! Xx
Here is another post all about healthy meal prep ideas and recipes!