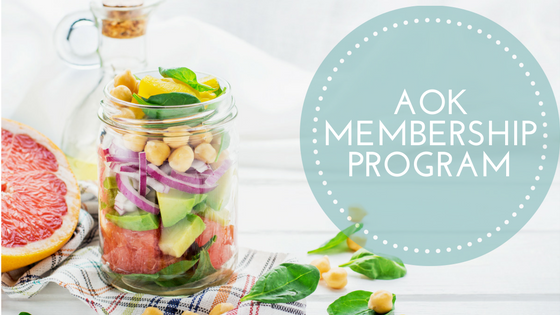 AOK MEMBERSHIP
Save time. Save money. Eat Clean.
Welcome to the AOK Membership Program.
Congratulations on your decision to invest in your health and I'm so happy you are here!!
Here is where you will find your meal plans, and other program features such as  Seasonal Seminars, and Pantry Guides.
You will have access to all the meal plans forever, and new ones will be added monthly. You can download the meal plans and save them to your computer.
In health,
Annaliisa
Meal plans and shopping lists are sent to you via e-mail. Be sure to download them onto your computer and into a file so you can easily access them. And don't forget your grocery list when you go shopping!
Do you need a nutritionist by your side while grocery shopping? I've got you covered! Use your handy Brand Guide to navigate through the grocery store.
The fundamental step in getting your kitchen organized and ready for quick and easy meals and healthy snacking.
Read the latest on our health blog!
"If you have health, you probably will be happy, and if you have health and happiness, you have all the wealth you need, even if it is not all you want. "
"Happiness cannot be traveled to, owned, earned, worn or consumed. Happiness is the spiritual experience of living every minute with love, grace, and gratitude."